Joseph Regh Books
The Art of Bow Restoration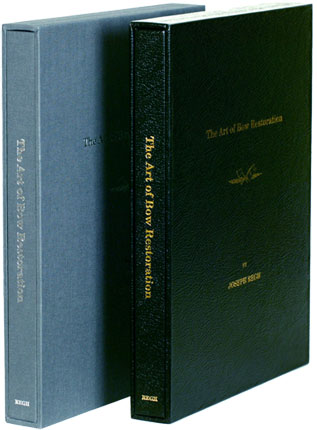 The Art of Bow Restoration is a newly released book describing repair and restoration techniques for pernambuco bows. It is published in full color and comes in two versions. It is a comprehensive study of contemporary methods to restore the precious as well as the everyday playing bow. The techniques are selected to reduce risk and assure a high quality repair.
The book is organized into six chapters, each chapter devoted to repair/restoriation of a specific part of the bow.
Chapter 1: Pre-repair Considerations, including measurements and templates
Chatper 2: The Stick, describes methods of splicing, wood replacement, bushings, grafts, grips and crack treatments
Chapter 3: The Head, gives methods for wood repair, broken heads and tip plates
Chapter 4: The Frog, shows the repair of broken rails, tongue replacement, eye and metal repair, the fitting of slides and the making of a ferrule
Chapter 5: The Button, describes the making of a new button, the repair of inlaid buttons and the fitting of a screw
Chapter 6: Rehairing is a guide to correct hairing. It describes and analyzes the pros and cons of various methods
Appendix: The Appendix consists of several sections describing glues, metals and solders, screw threads, varnish, touch-up and techniques to measure many of the physical parameters of bows
The Library edition is cloth-bound
The Deluxe edition is bound in black leather with Florentine cover design (Limited supply of Deluxe Edition - only 200 copies have been printed) The content of both editions is identical

The book contains over 400 color illustrations on 205 pages, many as sequential pictures of steps describing the restoration process.

Price:
Library Edition - US$500
Deluxe Edition - US$650

Plus Shipping/handling
| | |
| --- | --- |
| Distributed By: | Regh Violins |
| | 36 Sherwood Heights |
| | Wappingers Falls, NY 12590 |
| | USA |
| | 845 297 2521 |
Credit Cards accepted: MC, VISA, DISCOVER