Biography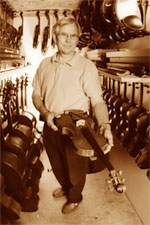 Joseph Regh began woodworking and cabinet making as a youth in post-war Germany and soon progressed to instrument repairs and making fine instruments and bows. He has been making and restoring violins, violas, cellos and basses since 1972. In 1979 he opened a violin shop in Wappingers Falls, NY and Regh Violins was born. He has earned a reputation for quality instruments and bows, fine repair and restoration. Regh Violins has become a center for discerning musicians.
In addition to being a luthier, Joseph is a physicist who was an IBM researcher in semiconductor physics for 25 years. He brings analytical and scientific methods to bear on improving the art of making bows and instruments. Joe has co-authored several books covering bow making and restoration.
Joseph Regh served as a vice president of the Violin Society of America as well as serving on the Board of Directors and as Chair of the Competition Committee. He is the architect of the current VSA Competition. He has also served as vice president of the Catgut Acoustical Society, an organization of scientists with interest in musical acoustics. He is the founder of VSA's highly successful master class in musical acoustics conducted every year at Oberlin College in Ohio.
He was on the Advisory Board of Mondomusica New York, to help bring this Cremona-based exhibition to New York City.